Dr. Bredesen
Dr. Dale Bredesen
Changing the world of Alzheimer's Disease Research
An internationally recognized expert in the mechanisms of neurodegenerative diseases, Dr. Dale Bredesen's career has been guided by a simple idea: that Alzheimer's as we know it is not just preventable, but reversible. Dr. Bredesen's dedicated pursuit of the science that makes this a reality has placed him at the vanguard of neurological research and led to the discoveries that today underlie the ReCODE Protocol™.
Dr. Bredesen earned his M.D. from Duke University Medical Center and served as Chief Resident in Neurology at the University of California, San Francisco (UCSF), before joining Nobel laureate Stanley Prusiner's laboratory at UCSF as an NIH Postdoctoral Fellow. He held faculty positions at UCSF, UCLA, and the University of California, San Diego. Dr. Bredesen also directed the Program on Aging at the Burnham Institute before joining the Buck Institute in 1998 as founding President and CEO.
Dr. Bredesen's research explores previously uncharted territory in explaining the physical mechanism behind the erosion of memory seen in Alzheimer's disease, and has opened the door to new approaches to treatment. This work has led to the identification of several new therapeutic processes that are showing remarkable early results. Dr. Bredesen is a prodigious innovator in medicine, with over thirty patents to his name. Notably, he put much of his findings and research into the 2017 New York Times' Best-Seller, The End of Alzheimer's.
His most recent book, The First Survivors of Alzheimer's, presents the stories of seven individuals who reversed their cognitive decline using the ReCODE Protocol.
Although the source of the quote "The definition of insanity is doing the same thing over and over again and expecting a different result" has been questioned, its relevance to the pursuit of a single drug approach to Alzheimer's disease is unquestionable. Sanity now prevails with Dr. Bredesen's challenge to the status quo that may very well bring an end to Alzheimer's disease.
"
I may frame my copy of the test … I honestly believe that the protocol saved my life.
Publications
The Bredesen Protocol® is based on over three decades of Dr. Bredesen's laboratory research, resulting in hundreds of peer-reviewed publications that have uncovered the biochemical mechanisms behind the erosion of memory associated with Alzheimer's disease.
Report of 100 patients, treated by several different physicians, with documented improvement in cognition, in some cases with documentation of improvement in electrophysiology or imaging, as well. This additional report provides further support for a randomized, controlled clinical trial of the protocol and the overall approach.
This paper includes the first description of the reversal of cognitive decline in patients with early Alzheimer's disease or its precursors, MCI (mild cognitive impairment) and SCI (subjective cognitive impairment).
Dr. Bredesen and team showed that ApoE4 acts as a transcription factor and binds to the promoters of genes involved in a range of processes linked to aging and Alzheimer's disease pathogenesis. These findings point to novel therapeutic strategies for Alzheimer's disease and aging, resulting in an extension of human healthspan, and a disease-free and functional period of life.
Live Talks
Dr. Bredesen regularly lectures and provides educational seminars worldwide to share his approach to ending the global burden of dementia. If you would like to invite Dr. Bredesen to speak at an event, please reach out to media@ahnphealth.com.    
See Dr. Bredesen's TedX talk given at Manhattan Beach entitled "A Precision Approach to End Alzheimer's Disease." In this presentation, Dr. Bredesen shares his belief that this will be the last generation to fear Alzheimer's and details how a precision approach to treatment can reverse cognitive decline. 
Books
Dr. Bredesen has written several books, including two New York Times Bestsellers, that have forever changed the way we perceive the scourge of Alzheimer's disease. His newest book, The First Survivors of Alzheimer's, features Alzheimer's survivors telling their transformational stories while providing insight into the pathology for the scientific community and offering hope for everyone.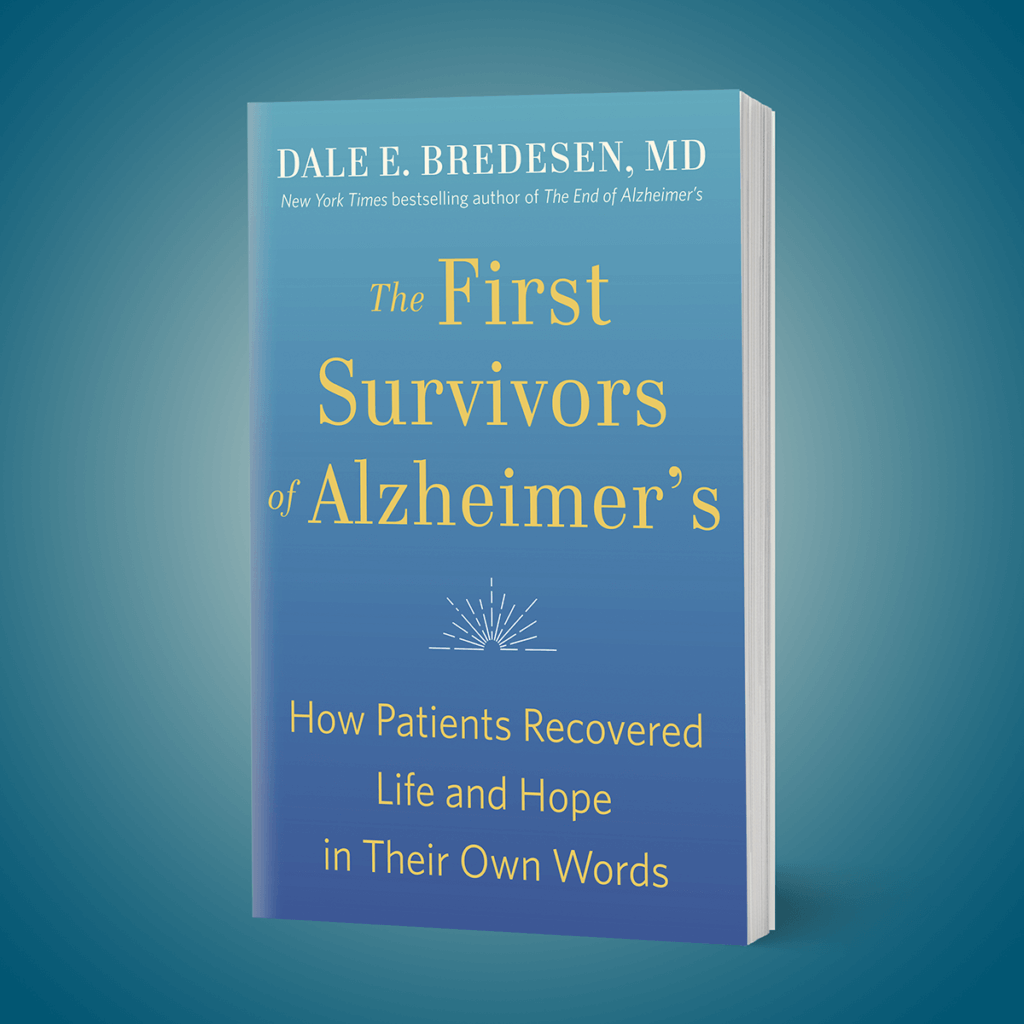 From Dr. Bredesen
September 20, 2022•
August 23, 2022•
August 3, 2022•